Attacking Reelin to Fight Glioblastoma Stems
I am still waiting for Glioblastoma.IT ODV to be included in the regional list of voluntary organizations. I hope this is the right week. We are in summer and as in every summer it is difficult to find the time to do research and write something useful and meaningful to publish. I don't normally write articles on research in the pre-clinical phase because, due to the way the system works, the effects of these researches on patients can take a very long time, too long for those affected by this pathology. In this case I will make an exception for several reasons. The first is that I was contacted by the same researchers who among other things work in Italy, the second is that it is a research focused on glioblastoma stem cells considering the main causes of chemo resistance, migration speed and recurrence.
Despite advances in clinical treatment and the growing number of experimental data aimed at investigating the molecular basis of glioblastoma development, the disease remains characterized by a poor prognosis ranging from 12 to 18 months. Recent studies have proposed the existence of a population of cancer stem cells with self-renewal capacity and high tumorigenic potential which are believed to be responsible for resistance to common chemotherapy and radiotherapy treatments. Reelin is a large secreted extracellular matrix glycoprotein, which contributes to positioning, migration, and laminar organization of several central nervous system structures during brain development. Mutations in the reelin gene have been linked to disorganization of brain structures during development and behavioral abnormalities. In this study, reelin expression in patients' glioblastoma and its related peritumor tissue is explored. The results reveal the higher expression of reelin in glioblastoma compared to peritumor tissue and the contribution of reelin in the migration of the glioblastoma cell line. The available data indicate reelin expression as a potential target for the treatment of glioblastoma.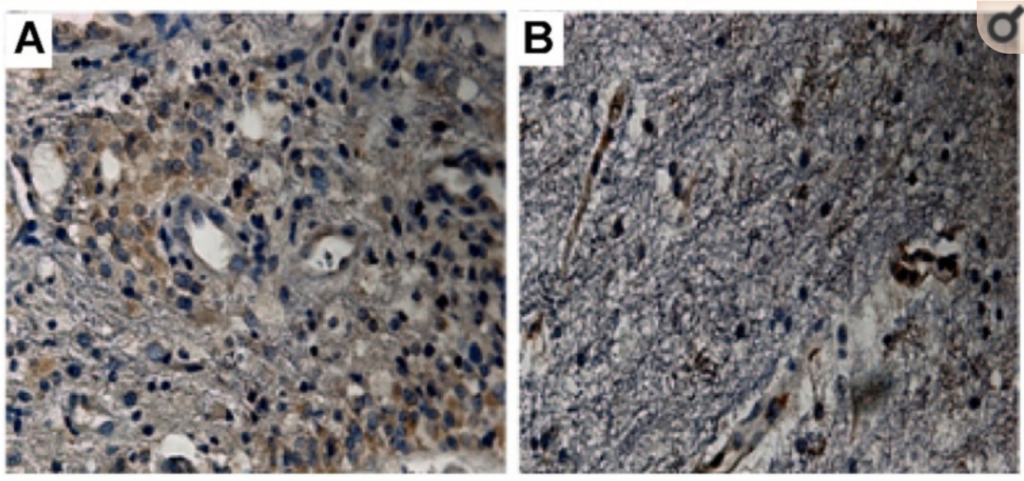 The extracellular matrix glycoprotein known as reelin plays a crucial role during mammalian brain development by contributing to the regulation of neuronal migration and synaptic plasticity. Reelin has also been associated with some human brain disorders in adulthood, such as lissencephaly, autism, mental disorders and Alzheimer's. In this study, a greater expression of reelin is observed both in the area of ​​the tumor nucleus and in the peritumor area. These results could suggest a potential involvement of reelin in glioblastoma and in the tumor recurrence that often originate from the peritumoral region from which raise interest in this macromolecule as a target to develop new treatment opportunities.
Now there is a reelin blocker, it is called CR-50 and it works well in vitro and researchers are also working on RNA encodings that are effective in this sense, however, given the complexity and multiplicity of the effects of reelin there is not yet a plan to move to clinical trials. However, it is to be hoped that the research will proceed quickly because attacking the stem cells of glioblastoma is essential for the success of therapies against this brain tumor.
Finally, for those wishing to learn more, here are the references to the article:
Evidence of Reelin Signaling in GBM and Its Derived Cancer Stem Cells
Enjoy the reading! I ask you to continue helping the CUSP-ND: trial to beat GBM remembering Emanuele fundraising champaign by sharing the link in order to spread the word and raise awareness in as many people as possible. Best luck to all those fighting against glioblastoma and their loved ones!