New Neuro-Imaging techniques to improve Glioblastoma treatment decisions
Recent developments in the algorithms applied to MRI allow us to better understand the characteristics of glioblastoma, its shape and extension, its vascularisation, how much it is aggressive. It therefore becomes possible to better plan surgery, evaluate its outcome and then better plan radiation therapy, evaluate its outcome by distinguishing between necrosis and tumor, understand if there are regressions, distinguish the progression from the pseudo-progression and choose the best treatment in each stage of disease development.
These techniques are available in the best medical centers and the good news is that there are companies that can perform this processing on existing MRI as a service: they therefore start from the CDs related to an MRI and produce these new images.
The following video produced by the Musella Foundation describes all this in detail.
The following image illustrates these new techniques that start from the MRI before and after the contrast medium. The first called rCBV (relative cerebral blood volume) provides a detailed image of the cerebral vascular volume: it is known that a tumor to have dimensions greater than 2mm must begin to create its own internal vascular system. The second called dT1 (delta T1) provides a very precise image of the contours of the tumor and its level of aggression. The third FTB (Fractional Tumor Burden) that combines the previous ones highlights the tumor in a very precise way distinguishing it from the effects of the treatment.
The following image, in addition represents in a very effective way the standard treatment path currently approved in the US, describes when these new imaging techniques can be used and should therefore be considered to make better decisions.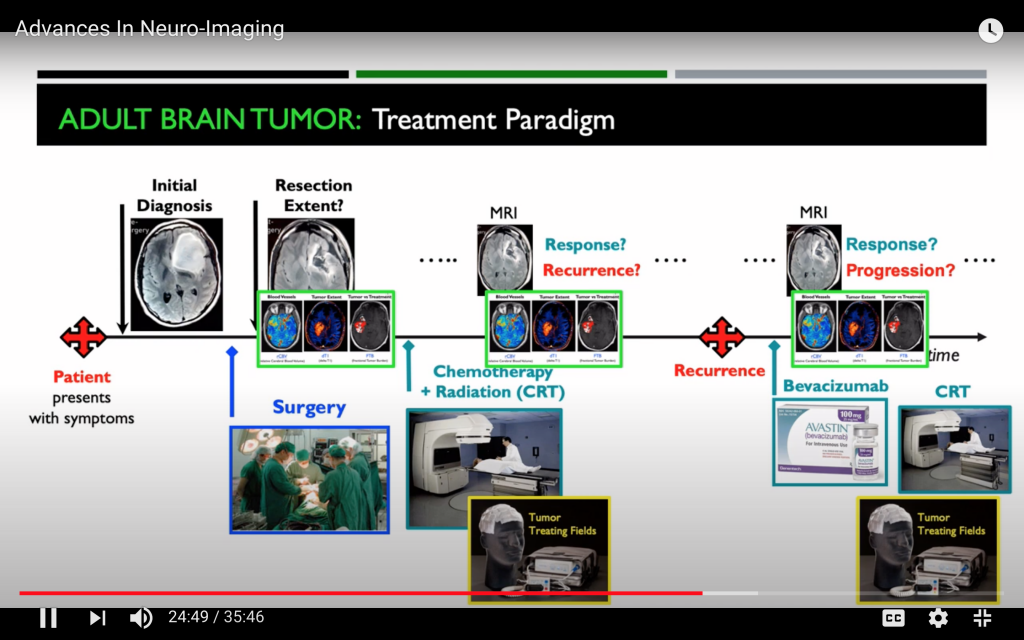 In particular, rCBV and dT1, are used before surgery to understand how much the brain tumor is aggressive, to guide the biopsy and to outline the extent of the resection. Following radiation therapy these new images allow us to distinguish well disease progression from pseudo-progression or treatment effect and therefore help us to decide if it is appropriate or not to enrol a patient in a clinical trial and to understand what is the real effect of a particular treatment on the specific glioblastoma.